Tree Services by Qualified Arborists
As leading tree surgeons in Perth, Williams Tree Pro provides a complete suite of residential tree services to our customers. Our tree services include:
Trees benefit our lives in so many ways, from adding aesthetic appeal to our properties to providing shade and a home for local wildlife, so it's important that your trees are professionally maintained to keep them healthy, looking their best and safe for you and your family. Professional arborist services provided by expert tree loppers keep your Perth property looking attractive while making it safe for you and your family to enjoy your outdoor spaces throughout the year.
When trees aren't professionally maintained, branches and limbs can become diseased and die, with the force and weight of a heavy branch capable of harming people and incurring damage to buildings and property. That means regular tree pruning services help to make Perth homes safer places. Dead or dying branches and other issues can be identified and dealt with by a professional qualified arborist.
Our passionate, qualified arborists look forward to assessing your trees, providing you with the right advice and carrying out all arborist work to the highest professional standards. Along with tree lopping and removal services, Williams Tree Pro also provides mulch for residential customers (see below).
---
Commercial Tree Services
Well-maintained, aesthetically pleasing trees can add real value to your commercial property and make it a more enjoyable place for your employees to work. Numerous studies have highlighted the many benefits of having trees on commercial premises, with improved air quality, enhanced climate control (by reducing heat intensity), better customer experiences and reduced employee absenteeism some of the most notable. However, to make the most of excellent benefits such as these and enjoy a cool, shady environment, the trees on your property need to be healthy and properly maintained.
While there are many benefits to having trees on commercial premises, they are a responsibility and business organisations must understand that trees which aren't properly maintained endanger people and property. To make sure your trees deliver benefits and don't pose a threat, it's essential to have a professional tree arborist assess the trees on your Perth premises and remove any branches and limbs that represent a risk. They can also trim and prune your trees to keep them uniform in size, increase the airflow around their trunks and looking their best throughout the year.
Williams Tree Pro have worked with some of Perth's biggest companies, providing a broad range of commercial tree removal, trimming and management services that we tailor to meet our customers' specific requirements. Along with tree pruning and removal services for all commercial properties, including properties with large and dangerous trees that require special attention, our qualified arborists can assist Perth commercial customers with the following:
Golf Courses, Gardens and Parks
Large Projects and Tenders
Tree Lopping Projects
Williams Tree Pro caters for a broad range of commercial customers, so no project is ever too big or too small for our qualified and insured team to manage. That means we're able to take on a broad range of commercial projects that include block levelling and subdivision clearing, broad acre land clearing and the removal of tree fire hazards, debris and deadwood, in addition to general arborist services such as stump grinding, tree removal, tree pruning and mulching.
Furthermore, we've continued to invest in premium-quality equipment and staff training to provide commercial Perth customers with a complete selection of tree services that are cost-effective, safe and delivered on time, every time. If you don't see the arborist or property development services you're looking for in the list above, please don't hesitate to contact Williams Tree Pro.
---
Video: We take safety very serioulsy when we are removing trees. Some of our tree lopping jobs take us to great heights. We're certified to perform dangerous tree work as well as to work around power lines.
---
Mulch
Mulching is great for the plants and trees on your property as it offers a broad range of benefits that keep your gardens healthy and looking great. In addition to providing a protective barrier around plants and over the bare soil, the many advantages of using mulch on your garden include:
Mulch prevents the rain from washing soil away, preventing soil erosion
Mulch retains moisture by absorbing water and limiting evaporation
Mulch controls weeds by acting as barrier and covering bare soil
Mulch provides valuable nutrients as it gets broken down
Additionally, mulch is also used to great effect for aesthetic purposes, as it improves the appearance of gardens in commercial and residential properties by covering the open spaces between plants and trees. It's also ideal for driveways on large properties, can be used to hold the ground together in areas where soil erosion has occurred and as it's organic and locally produced, it's great for the local environment.
Williams Tree Pro Services produces a variety of tree mulch (leaf and tree) as a by-product of the tree trimming and tree removal services we provide across Perth. We can deliver anywhere from 3m3 to 20m3 (cubic metres) of tree mulch to commercial and residential customers in our service area. For a quote, or to learn more about our mulch and the areas we deliver to, give us a call.
For a complete range of professional and reliable tree services at cost-effective rates, including tree lopping for Perth commercial and residential customers, please contact the friendly and professional team at Williams Tree Pro on 0416 356 359.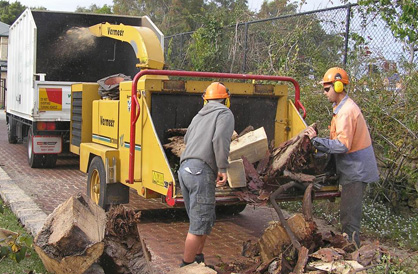 ---
Frequently Asked Questions (FAQ)
You could almost say we never stop. While most of our work is done during the usual business hours in a day, we usually start early and are available for emergency calls too.
No two jobs are the same and that's why we are happy to provide you with a free quote. We are proud to be known for our professionalism by our loyal customers both residential and commercial getting jobs done on time and on budget. Click here to get in touch and to get your free quote.
An arborist is someone trained in arboriculture which is the science behind the cultivation of trees and shrubs. In other words, an Arborist is a tree specialist or otherwise commonly known as a tree surgeon, tree doctor, tree consultant or even tree lopper.
Absolutely not. Like many other specialist fields, to become an arborist, further studies and certifications are required to be called an arborist. One our founders Nigel Williams holds a Certificate 3 in Arboriculture and a Certificate 3 in Turf Management. Along with over 20 years of experience in the industry, we are the fully qualified and experienced arborists our Perth customers can count on.
Anyone can trim a tree. Anyone can pull out a chainsaw and simply cut branches, but a fully qualified Arborist will prune and trim your tree according to industry standards in a way that is least disruptive to the health of your tree and will promote healthy and proper growth.
We offer the full range of tree services including:
Tree Lopping – This term is broadly used by our customers and can be traditional tree lopping to tree removal topping or trimming and pruning.
Tree Pruning
Tree Removal
Emergency Tree Care
We also provide emergency tree removal and clearing which our Perth weather calls for especially after our heavy storms pass. Our range of services on offer means people usually refer to us as tree removal specialists, tree loppers, tree doctors and tree surgeons. All you really need to know is if you need any help when it comes to trees, we can help.
Dangerous trees that have become large and are most likely now a hazard to your property and its surroundings. We are equipped, skilled and experience to take on these jobs and take pride in our attention to detail and safety. Read more about Dangerous Tree work here.
Williams Tree Pro is a professional company and takes your property, our business and our people seriously. Not only do we provide great service at highly competitive prices, we are fully insured and registered. This means that in the unlikely but unfortunate even that an incident was to occur, we are covered. Learn more here.
We take safety very seriously for the safety of your property and our people. All of our staff undertake regular training to keep up to date with safety standards and new techniques in the industry and we also take part in the annual tree climbing competition where our arborists share and get a chance to show off some of our great tree climbing skills. Tree climbing is only one part of the equation where our climbers also need to demonstrate the ability to operate tools and equipment.