Tree Services Banjup, WA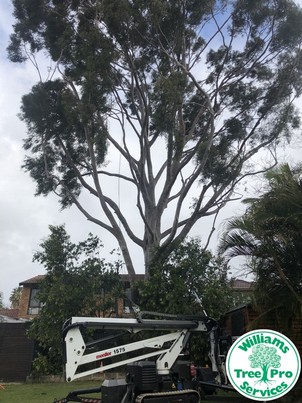 With our tree service operations based in Banjup WA, we have competed plenty of tree removal and tree lopping projects in the area. We are qualified, skilled and trained in a full range of tree and arborist services from tree pruning and trimming to lopping, stump removal, stump grinding, dangerous tree work and are permitted to work around power lines. For larger projects, we can tackle anything from clearing a block of land, maintaining all trees on a golf course to clearing a huge area of land.
We are locally owned and operated founded in 2005 and are proud to have a reputation of being on time, on budget while providing a great professional service and being very competitive on price. We also do not take safety lightly. Whether you are a homeowner, investor or a business that has tree projects on different properties, Williams Tree Pro is here to help.
Tree Removal, Lopping & Pruning/Trimming Services in Banjup
Our tree removal, tree lopping and tree pruning services are our most popular tree services.
There are many different situations where we have removed trees from home improvements to tree removal when a tree may become dangerous for various reasons. If you need a tree removed for whatever reason, talk to us to discuss your needs and goals.
While this term is used loosely by many people, there are instances where lopping might be necessary. Lopping without knowledge can easily cause harm damaging or potentially killing a tree while creating problems in the future. We can help assess whether lopping or an alternative method is required.
Pruning or Trimming is a regular tree maintenance procedure. Each tree is pruned with an intent. Some pruning projects are simply to trim a tree to keep the tree healthy and reduce risk of falling branches from overgrowth which may cause property damage or personal injury. In some cases pruning may revive a dying tree. Pruning is also usually a good alternative to lopping.
Our Range of Services
As fully qualified arborists, we have the knowledge, skills and experience to perform all tree tasks no matter how complex. We continue to learn and contribute to the industry, teach and share best practices and skills such as climbing tall tree structures while performing specific tasks. Along with removal, lopping and pruning, we are also often called for other tree services such as:
Stump Grinding & Stump Removal - where we fully remove a stump to eradicate any future problems.
Wood Chipping - When trees are removed, we can chip them so that they can be reused to further enhance and protect the growth of other trees.
Block Clearance & Pickup - Where we clear your block and we can also remove the rubbish on the block if needed.
Land Clearing (with root raking) - Where we clear land but also rake the roots to prepare the land for sale or for construction to commence.
Using a Qualified Arborist
It can not be emphasised enough how important it is to use the services of a fully qualified professional. There are many scenarios of general trades and individuals who believe pruning a tree is simply cutting away at branches with a saw. There are also instances where they want to remove a tree without consulting with a professional. If one is not experienced, there are so many things that can go wrong from dead trees to personal injury or property damage. Even if a tree is lopped or trimmed now and everything appears ok, if cuts are not made specifically, the lopping or trimming may cause weak growth in the future leading to more maintenance requirements and potential issues.
Commissioning a professional arborist also brings peace of mind. Apart from getting the job done right, in the unlikely event of an accident the arborist is insured and you do not need to worry about climbing up a tree and falling down without cover for yourself or your property.
If you need any other specialist arborist services or tree related services in Banjup or surrounding areas, contact our friendly team by calling us or filling out the form below and we are more than happy to help. We are also happy to provide you with a free quote for your project.
Contact Us Today!

---